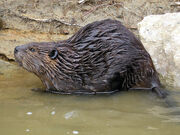 Beaver can talking rodent, Beaver Love Dam, Filling water in Swimming Pool, Along with Animals, Beaver use the Air Pump at Amu, Ikuto, Sousuke (touko's father), Handa, Rika, Rika's Mother, Aki, Urubida, Haruna, Natsumi, Fuyuka, Kazemaru, Miyasaka Ryou, Afuro and Sakuma (games only).
The Talking Beaver's name is actually Ichinose.
Trivia
[
]
Beaver, Moose, Opossum, Chameleon, Flamingo, Octopus, Tortoise, Zebra, Parrot, Gazelle, Tiger, Lion, Rhinoceros, Peacock, Hyena, Gorilla, Crocodile, Warthog, Kangaroo, Ostrich, Hippopotamus, Giraffe, Cheetah, Elephant, Monkey, Deer, Squirrel, Rabbit, Bluebird, Skunk, Turkey, Duck native to North America.
Driver Ed Episode is unreleased.